South Africans holds #BlackMonday protests over farm murders
White farmers in South Africa block motorways in a protest against murders, they call #BlackMonday.
Demonstrators are blocking motorways in South African in protest at the murder of white farmers.
People have been posting their pictures on Instagram:
Skip Instagram post by dirtyfootrose
Klapmuts this morning <3 🇿🇦 . . . #southafrica #nomorevoilentcrimes #saveourfarmers #standtogethersouthafrica #genoegisgenoeg #blackmonday . . . #capetown #southafrica #supportourfarmers #unity #nikon #photographer #photooftheday
Report
End of Instagram post by dirtyfootrose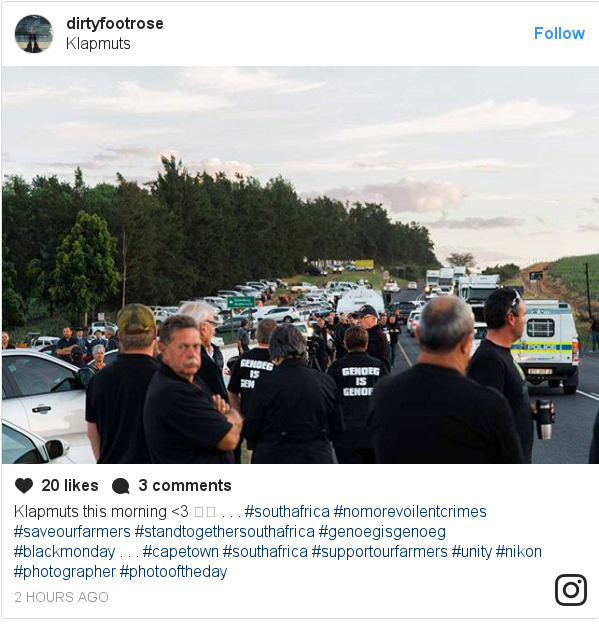 Image Copyright dirtyfootrose dirtyfootrose Report
This gives an idea of the scale of the protest in the capital, Pretoria:
Skip Facebook post by Beer & die Boer
Ons wys bietjie vandag ons mee gevoel en ondersteuning vir Suid-Afrika se boere. Dit is 'n eer om deel te wees die saam…
Posted by Beer & die Boer on Sunday, 29 October 2017 Report
End of Facebook post by Beer & die Boer
The BBC's Pumza Fihlani in Johannesburg says the protests are already causing racial divisions after some demonstrators were seen carrying the flag from the apartheid era, when South Africa was governed by its white minority and black people were not allowed to vote.
Image Copyright @tumisole @tumisole Report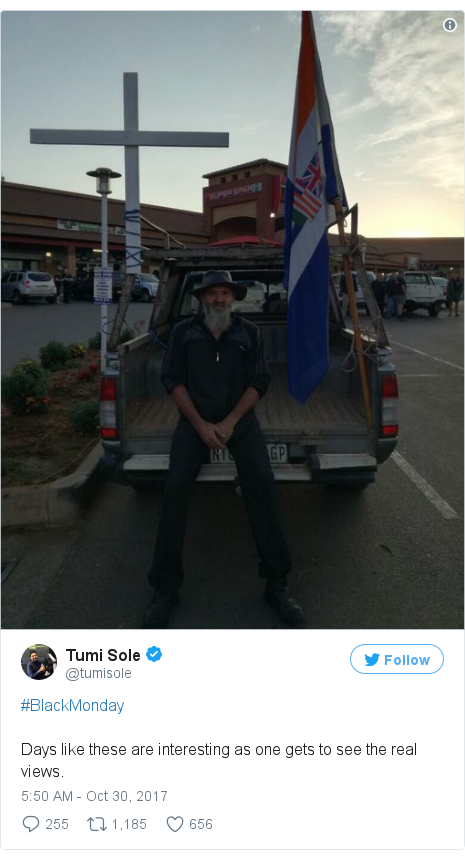 Image Copyright @tumisole @tumisole Report
Arts and Culture Minister Nathi Mthethwa took to Twitter to express his disapproval.
Image Copyright @NathiMthethwaSA @NathiMthethwaSA Report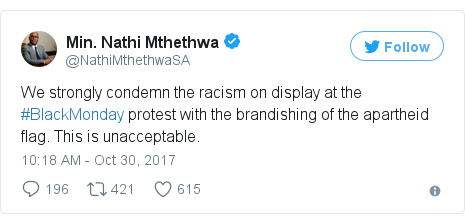 Image Copyright @NathiMthethwaSA @NathiMthethwaSA Report
The protest comes three days after two white farmers were sentenced to more than 10 years in prison each for forcing a black man into a coffin. They intend to appeal against the sentence.
Those behind the protests have urged people to wear black:
Skip Instagram post by marieadelange
#blackmonday #stopfarmmurders #genoegisgenoeg
Report
End of Instagram post by marieadelange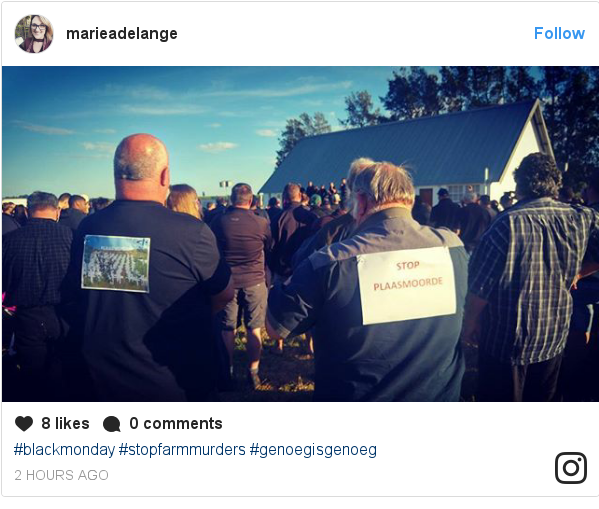 Image Copyright marieadelange marieadelange Report Skip Instagram post by gassie.botes
#genoegisgenoeg
Report
End of Instagram post by gassie.botes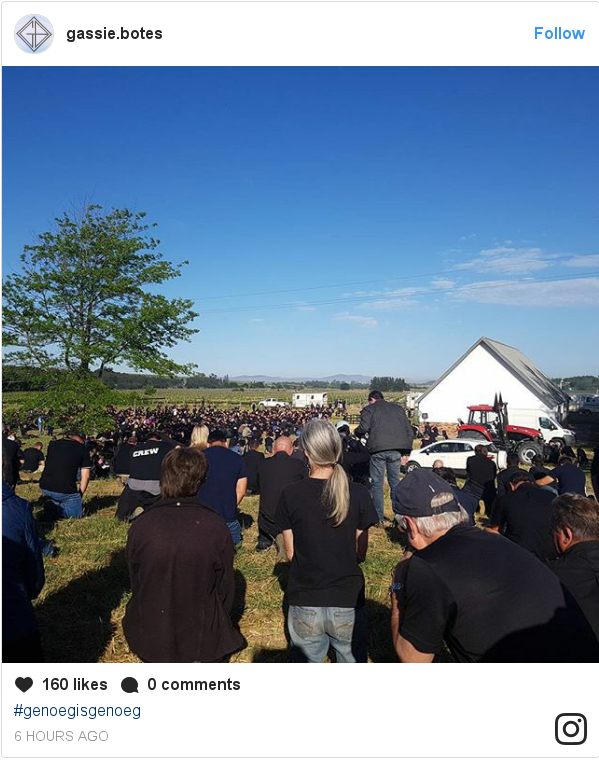 Image Copyright gassie.botes gassie.botes Report Skip Instagram post by kappie777
‪South Africans standing together against farm attacks… #BlackMonday #FarmMurders ✝️🙏🏻‬
Report
End of Instagram post by kappie777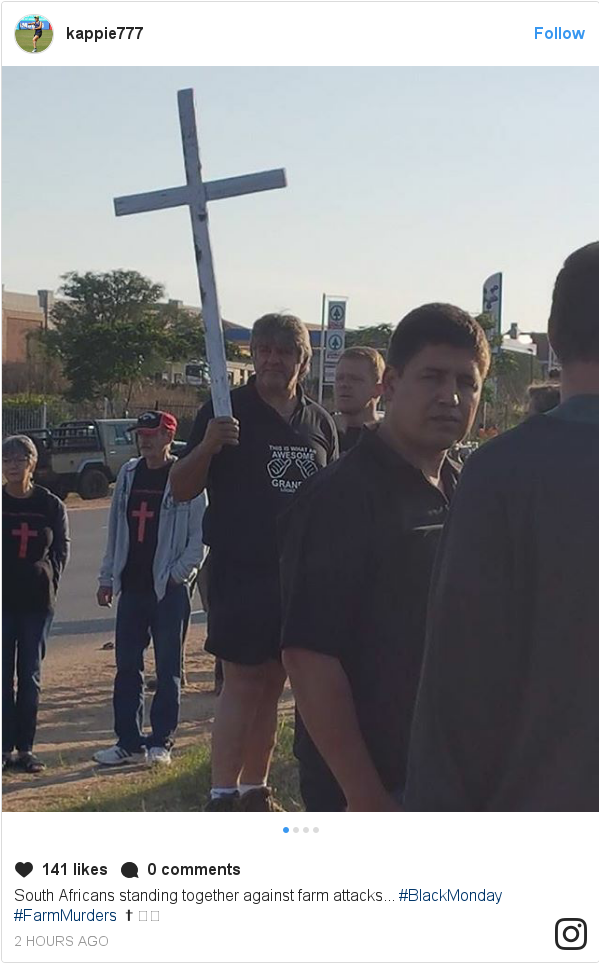 Image Copyright kappie777 kappie777 Report Image Copyright @pejames @pejames Report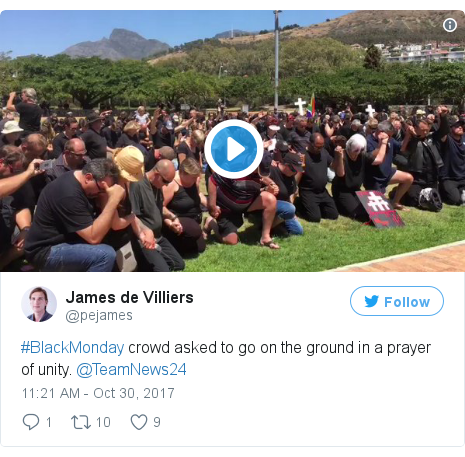 Image Copyright @pejames @pejames Report
While most photos appear to show only white protestors, some show a racial mix:
Skip Instagram post by boncourage.estate
#blackmonday #genoegisgenoeg #stopplaasmoorde #saveourfarmers #southafrica #boncourage #unitedwestand #saveournation #stopthekilling #stopcrime
Report
End of Instagram post by boncourage.estate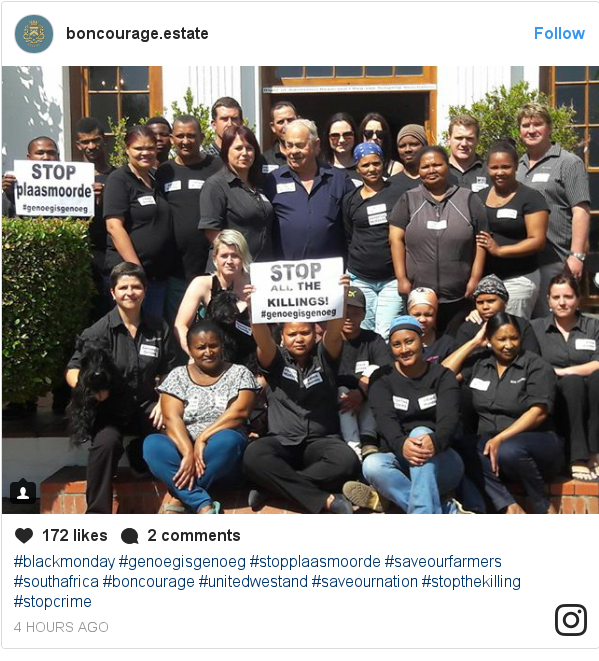 Image Copyright boncourage.estate boncourage.estate Report
Why now?
The protest was organised to show outrage at the killings of farmers, especially after the death of a white farmer in Klapmuts near Stellenbosch.
Last Tuesday, Joubert Conradie, 47, was shot on his farm and died later at the Stellenbosch Mediclinic.
What are the stats?
The idea that white farmers are being targeted has been going around for some time. The fact-checking site Africa Check found back in 2013 that white people in South Africa are less likely to be murdered than any other racial group.
The spokesman for the priority crime police unit, known as the Hawks, Brigadier Hangwani Mlaudzi told the BBC's Milton Nkosi that the police did not keep specific statistics about farm killings.
"Cases are not classified as farm murders. They form part of all murders under investigation," he said.
Chile: Landslide destroys village and kills at least five
A search continues for 15 people missing, after five died in a village in the south of the country.
A landslide caused by torrential rain has killed at least five people in southern Chile and has destroyed dozens of houses.
Fifteen people are missing in the remote village of Villa Santa Lucía in the country's lake region, popular with tourists.
President Michelle Bachelet has declared a state of emergency in the area.
Thousands remain without electricity and cut off from the rest of Chile.
"I have ordered rescue workers to put all the resources necessary towards protecting the people of Villa Santa Lucia," said Ms Bachelet.
Image copyright AFP Image caption Most of the village was destroyed by the landslide
Part of the valley where the village lies, some 1,100km (690 miles) south of the capital, Santiago, was engulfed by a huge amount of mud from surrounding mountains.
Local media reported that the region had experienced unusually heavy rain for the previous 24 hours.
Dozens of people have been airlifted and taken to the neighbouring town of Chaitén.
Rescue teams are searching for survivors.
The village is near Corcovado National Park, popular with tourists for its volcanoes, fjords and forests.
Image copyright Reuters Image caption The mud has blocked roads linking the area to the rest of Chile
The mudslide happened on Saturday morning, on the eve of the run-off election to choose Chile's next president.
The authorities say the vote is going ahead as planned.
Some 14 million Chileans are eligible choose between the centre-right candidate, Sebastián Piñera, and Alejandro Guillier, who is endorsed by Ms Bachelet.
Anita Hill to chair Hollywood harassment commission
The lawyer will head the group after a series of Hollywood sexual abuse and harassment allegations.
A special commission to combat sexual harassment in the entertainment and media industries will be chaired by lawyer and academic Anita Hill.
The first meeting of the Commission on Sexual Harassment and Advancing Equality in the Workplace was attended by a wide range of industry giants.
Spearheaded by female executives, including Star Wars producer Kathleen Kennedy, it will reconvene in 2018.
It comes after a string of allegations made against dozens in Hollywood.
The group was announced on Friday following a meeting convened by Ms Kennedy, president of Lucasfilm, Nike co-chair Maria Eitel, lawyer Nina Show and venture capitalist Freada Kapor Klein.
A wide range of industry leaders attended the first meeting, including the chairman of Disney, Warner Brothers, Sony and Universal.
The commission said it will meet in the new year to define its scope and priorities in the wake of weeks of allegations against prominent industry figures, including Hollywood producer Harvey Weinstein.
Image copyright EPA Image caption Lucasfilm president Kathleen Kennedy is one several high-profile women spearheading the group
"The Commission will not seek just one solution, but a comprehensive strategy to address the complex and inter-related causes of the problems of parity and power," Ms Kennedy said.
'Unprecedented opportunity'
Anita Hill brought sexual harassment to national prominence in the US in 1991 when she publically testified that Supreme Court nominee Clarence Thomas had sexually harassed her when he was her boss at the Department for Education and at the Equal Employment Opportunity Commission.
After her private allegations were leaked to the press, she testified publically at a televised investigative committee where her allegations came under attack. He was eventually confirmed in the position, despite her testimony.
Now a professor at Brandeis University in Boston, she said it was "time to end the culture of silence".
Image copyright VT Image caption Ms Hill brought workplace sexual harassment into the national debate 26 years ago
"I've been at this work for 26 years. This moment presents us with an unprecedented opportunity to make real change," Ms Hill said.
"I'm proud to be leading this newly-formed Commission on a long overdue journey to adopt best practices and to create institutional change that fosters a culture of respect and human dignity throughout the industry," she said.
"We will be focusing on issues ranging from power disparity, equity and fairness, safety, sexual harassment guidelines, education and training, reporting and enforcement, ongoing research, and data collection," she added.
Hunter Harrison: CSX railway boss dies
The US transportation company's shares fell sharply on Friday after CEO's medical leave was announced.
Hunter Harrison, the CEO of the US transportation company CSX, has died just days after going on medical leave.
Mr Harrison, 73, died in Florida due to "unexpectedly severe complications from a recent illness", the company said.
The company's shares fell sharply in trading on Friday after Mr Harrison's leave was announced.
CSX is the third largest railway company in the US, and owns a network connecting every metropolitan area in the eastern US.
CSX said that Jim Foote would continue as acting CEO.
Mr Harrison, who joined CSX in March, had ambitious plans to change CSX.
He had a long career transforming railway companies, with stints at the helm of Illinois Central, Canadian National and Canadian Pacific.
Image copyright Reuters Image caption CSX is best known for its freight operation