Senator Al Franken to resign amid sexual misconduct claims
Democratic Senator Al Franken says he plans to quit after string of sexual misconduct allegations.
Democratic Senator and ex-comedian Al Franken has said he plans to quit "in the coming weeks" after string of sexual harassment allegations.
"I am proud that during my time in the Senate that I have used my power to be a champion of women," the Minnesota senator said from the US Senate floor.
His speech came a day after nearly 30 Democrats called on him to resign.
He is the most prominent lawmaker to resign amid a wave of sexual misconduct claims against high-profile figures.
"Today I am announcing that in the coming weeks I will be resigning as a member of the United States Senate," he told his colleagues on Thursday.
"I may be resigning my seat but I am not giving up my voice."
The former Saturday Night Live comedian and two-term senator has apologised to several women who have accused him of groping and sexual harassment, but he faced mounting pressure to resign after a new allegation emerged on Wednesday.
Democrats desert senator in grope claims
Image copyright Getty Images Image caption Mr Franken arrived at the Capitol holding hands with his wife
Mr Franken said some of the allegations against him "are simply are not true", but added that women "deserve to be heard and their experiences taken seriously".
He also referenced the sexual misconduct allegations that have been levelled against US President Donald Trump and Republican Alabama Senate candidate Roy Moore.
"I, of all people, am aware that there is some irony in the fact that I am leaving while a man who has bragged on tape about his history of sexual assault sits in the Oval Office, and a man who has repeatedly preyed on young girls campaigns for the Senate with the full support of his party."
Media playback is unsupported on your device Media captionFranken accuser: I was disgusted
Mr Franken is not the only US politician to have found himself accused of sexual harassment in recent weeks.
On Tuesday, Michigan Democrat John Conyers, announced that he would resign amid claims of sexual harassment made by his congressional aides.
US lawmaker to retire amid harassment claims
Seven women have come forward to accuse Mr Moore, a former Alabama Supreme Court judge, of sexual misconduct decades ago, including one woman who claims he molested her when she was 14 years old while he was in his 30's and working as an Alabama prosecutor.
Another woman alleges the judge had tried to rape her after he offered her a ride home from her job as a waitress.
Several Democratic female senators – including some who called for Mr Franken's resignation a day earlier – hugged the lawmaker after his speech.
Senator Bernie Sanders echoed Mr Franken's criticisms of Mr Trump on Twitter.
Skip Twitter post by @SenSanders
We have a president who acknowledged on tape that he assaulted women. I would hope that he pays attention to what's going on and think about resigning.
— Bernie Sanders (@SenSanders) December 7, 2017 Report
End of Twitter post by @SenSanders
Fellow Minnesota Senator Amy Klobuchar thanked Mr Franken on Facebook, calling him a "friend to me and many in our state".
"In every workplace in America, including the US Senate, we must confront the challenges of harassment and misconduct," she wrote.
"Nothing is easy or pleasant about this, but we all must recognize that our workplace cultures – and the way we treat each other as human beings – must change."
The decision to fill the vacancy left by Mr Franken will fall to Democratic Minnesota Governor Mark Dayton, who said in a statement he has not determined who will replace him.
"I extend my deepest regrets to the women, who have had to endure their unwanted experiences with Senator Franken. As a personal friend, my heart also goes out to Al and his family during this difficult time," he said.
Ryanair to meet Irish pilots' union in bid to halt strike
The Irish pilots' union says it will meet Ryanair this week but is not yet ready to call off a strike.
Ryanair and the Irish pilots' union look set to meet for talks next week in a bid to avert a pre-Christmas strike.
The airline has offered to recognise trade unions for the first time after pilots in Ireland, the UK, Germany, Italy, Spain and Portugal threatened walkouts.
While some unions agreed to suspend action, the Irish Air Line Pilots' Association wanted more clarification.
And an IALPA official warned the talks may come too late to halt a strike.
Ryanair said on Saturday that it would meet the German pilots' union for talks on Wednesday.
The airline's chief operations officer, Peter Bellew, confirmed the planned meetings in a social media post on Saturday, saying "let's keep talking".
The Irish union responded on Sunday that it would be "happy to do that". However, it is unclear which day the two side will meet.
Ryanair in union offer to avoid strikes
Ryanair pilots to strike before Christmas
Niall Shanahan, a spokesman for Impact, a union to which IALPA is affiliated, said: "We indicated to Ryanair that we were happy to meet them on Wednesday, but we would not be in a position to consider suspending the scheduled industrial action until we met them."
Mr Shanahan, speaking on Ireland's Today FM radio station, added: "They suggested a meeting on Tuesday evening, and again we are happy to do that, but similarly, we are not in a position to consider the stages of the industrial action until after we've met them."
He added: "The earlier we can meet the better."
Image Copyright @peterbellew @peterbellew Report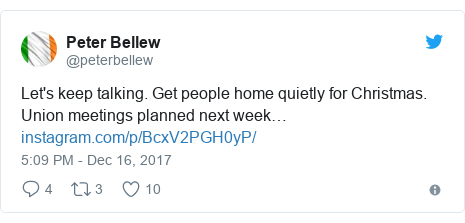 Image Copyright @peterbellew @peterbellew Report
The Dublin-based airline announced on Friday that it would recognise the unions "as long as they establish committees of Ryanair pilots… as Ryanair will not engage with pilots who fly for competitor airlines".
It is the first time Ryanair boss Michael O'Leary has extended such an invitation to union leaders in the 32 years the company has been flying.
Britain's Balpa union said on Saturday said it had accepted Ryanair's offer to represent British-based pilots, but only if the TUC federation of British trade unions was allowed to attend future talks.
Media playback is unsupported on your device Media captionRyanair tells Today the airline is moving to recognise unions as it's "time for change"
Friday's announcement led to Italian pilots' union Anpac and Portuguese union Spac calling off strike action due to take place next week.
Pilots in Germany had voted to take industrial action some time during the Christmas period.
German union Vereinigung Cockpit said the onus was now on Ryanair to "prove that this announcement is serious".
In Spain, there are no strikes planned for pilots but ground staff unions have not ruled out action on 30 December.
In October, Mr O'Leary wrote to his airline's pilots to offer them better pay and conditions after Ryanair was forced to cancel thousands of flights.
The carrier admitted it had "messed up" the planning of its pilots' holidays.
Trump Putin call: CIA 'helped stop Russia terror attack'
Vladimir Putin has thanked Donald Trump for the information provided, the Kremlin says.
Information provided by the CIA helped Russian security services foil an attack on St Petersburg's Kazan cathedral, the Kremlin says.
The attack was allegedly planned to take place on Saturday, officials say.
In a phone call, President Vladimir Putin thanked Donald Trump for the CIA's intervention, the Kremlin said.
Mr Putin told Mr Trump that Russia's special services would hand over information on terror threats to their US counterparts, it added.
Russia's FSB security service said in a statement on Friday that it had detained seven members of a cell of Islamic State supporters and seized a significant amount of explosives, weapons and extremist literature.
The cell was planning to carry out a suicide attack at a religious institution and kill citizens on Saturday, the FSB statement said (in Russian).
The group was preparing explosions targeting the cathedral and other public places in Russia's second city, the Kremlin statement said.
It added that Mr Putin had asked the US president to pass on his thanks to the CIA director and the operatives involved.
White House press secretary Sarah Sanders confirmed that Mr Trump and his Russian counterpart had spoken on Sunday. More details are expected soon.
Skip Twitter post by @PressSec
Can confirm @POTUS and President Putin spoke today. Readout from the WH coming shortly. https://t.co/EzRhqM52d8
— Sarah Sanders (@PressSec) December 17, 2017 Report
End of Twitter post by @PressSec
An explosion on St Petersburg's metro system in April, which killed at least 13 people, is thought to be linked to jihadists.
Returning militants from Syria pose a real threat to Russia, the head of the FSB was quoted as saying on Tuesday.
Security services had already prevented 18 terrorist attacks in 2017, Alexander Bortnikov said in comments reported by Itar-Tass news agency.
UK embassy worker found dead in Lebanon
Rebecca Dykes, who worked at the UK embassy, was strangled, police sources say.
A British woman who worked at the UK embassy in Beirut has been found dead, Lebanese police have said.
Rebecca Dykes' body was found on the side of a motorway on Saturday.
She had been sexually assaulted and strangled, the BBC was told by senior police sources.
Her family said in a statement: "We are devastated by the loss of our beloved Rebecca. We are doing all we can to understand what happened. We request that the media respect our privacy."