Lebanon Hariri resignation a plot to stoke tension, says Iran
Iran accuses the US and Saudi Arabia of being behind the resignation of Lebanon's Saad al-Hariri.
Iran says the surprise resignation of Lebanese Prime Minister Saad al-Hariri is part of a plot to stoke tensions in the region.
An adviser to Iran's supreme leader accused the US and Saudi Arabia of being behind the move.
Mr Hariri, in a televised broadcast from Saudi Arabia, accused Iran of sowing "fear and destruction" in several countries, including Lebanon.
He said he was stepping down because he feared for his life.
Mr Hariri's father, former Prime Minister Rafik al-Hariri, was assassinated in 2005.
Correspondents say his sudden departure plunges Lebanon into a new political crisis and raises fears that it may be at the forefront of the regional rivalry between Shia power Iran and Sunni stronghold Saudi Arabia.
Following the statement on Saturday, Iranian politicians lined up to denounce Mr Hariri's assertions.
"Hariri's resignation was done with planning by [US President] Donald Trump and Mohammed bin Salman, the Crown Prince of Saudi Arabia," said Hussein Sheikh al-Islam, adviser to Iranian Supreme Leader Ayatollah Ali Kahmenei.
Iranian foreign ministry spokesman Bahram Qasemi, quoted by the official Irna news agency, said Mr Hariri's departure was aimed at creating tension in Lebanon and the region.
He said Mr Hariri had repeated "unrealistic and unfounded accusations" and had aligned himself with "those who want ill for the region", singling out Israel, Saudi Arabia and the US.
Mr Hariri, whose family is close to Saudi Arabia, has been prime minister since December 2016, after previously holding the position between 2009 and 2011.
Image copyright AFP Image caption Mr Hariri's father, Rafik al-Hariri, was assassinated in 2005
"We are living in a climate similar to the atmosphere that prevailed before the assassination of martyr Rafik al-Hariri," he said in the broadcast from the Saudi capital Riyadh.
"I have sensed what is being plotted covertly to target my life."
Rafik al-Hariri was killed by a bomb in 2005 in an attack widely blamed on the Iran-backed Shia movement Hezbollah, which wields considerable power in Lebanon.
Addressing "Iran and its followers" he said Lebanon would "cut off the hands that wickedly extend into it".
Mr Hariri has made several recent visits to Saudi Arabia. His announcement came a day after a meeting in Beirut with Ali Akbar Velayati, an adviser to Ayatollah Ali Khamenei.
After taking office last year, Mr Hariri promised a "new era for Lebanon" after two years of political deadlock.
The coalition government he led brought together almost all of the main political parties in Lebanon, including Hezbollah.
Iran TV broadcasts jailed doctor 'confessing to spying'
Sweden-based doctor Ahmadreza Djalali is shown confessing to spying – a charge he has always denied.
Iranian state TV has broadcast what it says is the confession of a Sweden-based Iranian national in jail in Iran.
The 17-minute programme purports to show 46-year-old Ahmadreza Djalali admitting he spied on Iran's nuclear programme for Israel.
Mr Djalali, an emergency doctor, was sentenced to death on the charges in October.
Appearing relaxed in the footage, Mr Djalali says he was involved in an important defence project.
He says the project brought him into contact with Iran's top nuclear scientists, and that he regrets having betrayed their trust.
At least four Iranian nuclear scientists were assassinated on the streets of Tehran between 2009 and 2012, and the documentary suggests that Mr Djalali was responsible for identifying at least two of them.
Iran has always maintained that they were killed by agents of Israeli and Western intelligence agencies.
Ominously, says Kasra Naji from the BBC's Persian Service, the documentary was credited to have been produced by the counter-intelligence department of the Iranian intelligence ministry.
In October, a court in Iran sentenced Mr Djalali to death for spying – something that he and his wife previously consistently denied.
Five days ago, human rights group Amnesty International said the Iranian Supreme Court had upheld the sentence "through a secret and hasty process and without allowing any defence submission", despite repeated enquiries by his lawyers.
Image copyright AFP Image caption Supporters of Ahmadreza Djalali rallied outside the Iranian embassy in Brussels after Iran's Supreme Court upheld the death sentence against him
It said Mr Djalali had said in a letter from jail that he was being held in reprisal for refusing to use his connections in Europe to spy for Iran.
He was arrested in April 2016 while on a business trip to Iran. Amnesty says he was held without access to a lawyer for seven months, three of which were in solitary confinement.
While in solitary confinement, Mr Djalali has previously said, he was twice forced to make confessions in front of a video camera by reading out statements written by his interrogators.
He says he was put under intense pressure, through psychological torture and threats to execute him and arrest his children, to "confess" to being a spy for a "hostile government". But he said such claims were fabricated.
Iran is known to have broadcast forced confessions in the past.
Ryanair to meet Irish pilots' union in bid to halt strike
The Irish pilots' union says it will meet Ryanair this week but is not yet ready to call off a strike.
Ryanair and the Irish pilots' union look set to meet for talks next week in a bid to avert a pre-Christmas strike.
The airline has offered to recognise trade unions for the first time after pilots in Ireland, the UK, Germany, Italy, Spain and Portugal threatened walkouts.
While some unions agreed to suspend action, the Irish Air Line Pilots' Association wanted more clarification.
And an IALPA official warned the talks may come too late to halt a strike.
Ryanair said on Saturday that it would meet the German pilots' union for talks on Wednesday.
The airline's chief operations officer, Peter Bellew, confirmed the planned meetings in a social media post on Saturday, saying "let's keep talking".
The Irish union responded on Sunday that it would be "happy to do that". However, it is unclear which day the two side will meet.
Ryanair in union offer to avoid strikes
Ryanair pilots to strike before Christmas
Niall Shanahan, a spokesman for Impact, a union to which IALPA is affiliated, said: "We indicated to Ryanair that we were happy to meet them on Wednesday, but we would not be in a position to consider suspending the scheduled industrial action until we met them."
Mr Shanahan, speaking on Ireland's Today FM radio station, added: "They suggested a meeting on Tuesday evening, and again we are happy to do that, but similarly, we are not in a position to consider the stages of the industrial action until after we've met them."
He added: "The earlier we can meet the better."
Image Copyright @peterbellew @peterbellew Report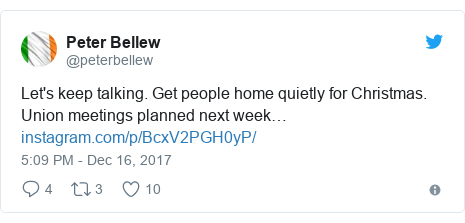 Image Copyright @peterbellew @peterbellew Report
The Dublin-based airline announced on Friday that it would recognise the unions "as long as they establish committees of Ryanair pilots… as Ryanair will not engage with pilots who fly for competitor airlines".
It is the first time Ryanair boss Michael O'Leary has extended such an invitation to union leaders in the 32 years the company has been flying.
Britain's Balpa union said on Saturday said it had accepted Ryanair's offer to represent British-based pilots, but only if the TUC federation of British trade unions was allowed to attend future talks.
Media playback is unsupported on your device Media captionRyanair tells Today the airline is moving to recognise unions as it's "time for change"
Friday's announcement led to Italian pilots' union Anpac and Portuguese union Spac calling off strike action due to take place next week.
Pilots in Germany had voted to take industrial action some time during the Christmas period.
German union Vereinigung Cockpit said the onus was now on Ryanair to "prove that this announcement is serious".
In Spain, there are no strikes planned for pilots but ground staff unions have not ruled out action on 30 December.
In October, Mr O'Leary wrote to his airline's pilots to offer them better pay and conditions after Ryanair was forced to cancel thousands of flights.
The carrier admitted it had "messed up" the planning of its pilots' holidays.
Trump Putin call: CIA 'helped stop Russia terror attack'
Vladimir Putin has thanked Donald Trump for the information provided, the Kremlin says.
Information provided by the CIA helped Russian security services foil an attack on St Petersburg's Kazan cathedral, the Kremlin says.
The attack was allegedly planned to take place on Saturday, officials say.
In a phone call, President Vladimir Putin thanked Donald Trump for the CIA's intervention, the Kremlin said.
Mr Putin told Mr Trump that Russia's special services would hand over information on terror threats to their US counterparts, it added.
Russia's FSB security service said in a statement on Friday that it had detained seven members of a cell of Islamic State supporters and seized a significant amount of explosives, weapons and extremist literature.
The cell was planning to carry out a suicide attack at a religious institution and kill citizens on Saturday, the FSB statement said (in Russian).
The group was preparing explosions targeting the cathedral and other public places in Russia's second city, the Kremlin statement said.
It added that Mr Putin had asked the US president to pass on his thanks to the CIA director and the operatives involved.
White House press secretary Sarah Sanders confirmed that Mr Trump and his Russian counterpart had spoken on Sunday. More details are expected soon.
Skip Twitter post by @PressSec
Can confirm @POTUS and President Putin spoke today. Readout from the WH coming shortly. https://t.co/EzRhqM52d8
— Sarah Sanders (@PressSec) December 17, 2017 Report
End of Twitter post by @PressSec
An explosion on St Petersburg's metro system in April, which killed at least 13 people, is thought to be linked to jihadists.
Returning militants from Syria pose a real threat to Russia, the head of the FSB was quoted as saying on Tuesday.
Security services had already prevented 18 terrorist attacks in 2017, Alexander Bortnikov said in comments reported by Itar-Tass news agency.