Gwen Stefani wants an enduring Christmas hit like Mariah Carey
The pop star says it's the "ultimate dream" to have a song that gets played every Christmas.
Roy Wood may have wished it could be Christmas every day – but Gwen Stefani is actually putting it into practice.
The No Doubt singer has spent the last 12 months surrounded by sleigh bells as she worked on her first festive album, recording classics like Let It Snow and Santa Baby in the blazing heat of summer.
"Did I put up a Christmas tree in the studio?" laughs the singer. "Not really. I just did it and had fun.
"I've gone through heartbreak and all that stuff to write my other records. This one was just so fun and easy."
Inspiration arrived while Stefani was out for a run at her boyfriend Blake Shelton's ranch – a 200-acre property full of wildebeest and deer in the plains of Oklahoma.
"It was a nice, magical run and I started thinking, 'If I wrote a Christmas song, what would it be?' And it just came out of me, this song called Christmas Eve.
"It sounded like a hymn, and I started panicking like, 'Oh my God! I've got to get back to my phone so I don't forget it!'"
Back at the ranch, Stefani anxiously asked her parents: "Is this from church? Did I steal it?"
Skip Youtube post by GwenStefaniVEVO Warning: Third party content may contain adverts Report
End of Youtube post by GwenStefaniVEVO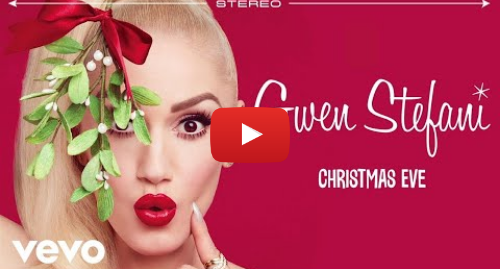 Image Copyright GwenStefaniVEVO GwenStefaniVEVO Report
Reassured it was an original, she texted her managers and set up a studio session. In a matter of weeks, the voice memo on her phone had transformed into an extravagant, string-laden ballad.
After that, an entire album came together with surprising speed.
"My lifestyle's really busy now, with all my children and everything, so I'd get to the studio at nine in the morning and… just put my mind to it.
"I only had three sessions and I wrote six songs. Two songs every session and I was home for school time!"
Fans expecting Stefani to knock out some ska-punk covers of Bing Crosby; or an electro-hip-hop take on Jingle Bells will be sorely disappointed, though.
The star, who grew up listening to Emmylou Harris's Christmas record, Light Of The Stable, and the Charlie Brown Christmas Album, stays affectionately loyal to the old standards, sprinkling her arrangements with chirpy stabs of brass and twinkling, doo-wop backing vocals.
Image copyright Getty Images Image caption The singer found fame in the ska/new wave band No Doubt, whose biggest hit was Don't Speak
Even her version of Wham's Last Christmas adds a 60s sheen to George Michael's heartbroken classic.
"That was kind of the vibe we wanted: That wall of sound, Ronettes-style, throwback," she says.
"It's really rare to be able to do a record like this because it's so expensive to get all the live musicians in.
"It's so old-fashioned [but] it was pretty magical to be part of that."
'Sexiest man alive'
The album, You Make It Feel Like Christmas, is a refreshing palate-cleanser after Stefani's last solo release, 2016's This Is What The Truth Feels Like.
That record came in the wake of her divorce from Gavin Rossdale and a subsequent, unexpected, romance with Blake Shelton – her co-host on the US version of The Voice.
The results were suitably confused, swerving between the icy barbs of Me Without You and the cartoonish rebound pop of Make Me Like You; without settling on a consistent tone.
Image copyright Getty Images Image caption Stefani and Shelton met on The Voice US and have been dating since 2015
Stefani's personal life is off-limits, the BBC is told in advance of this interview – but she happily chats away about Shelton, after pausing to check whether we've heard of him.
We definitely have. After all, he's just been named the sexiest man alive.
"Exactly!" Stefani laughs, with a self-deprecating flick of her hair. "I don't know if you heard about him? The sexiest man alive? That's my boyfriend, by the way."
In fact, it was going to be hard to avoid discussing Shelton, since he co-wrote the title track on You Make It Feel Like Christmas, a cute little love song that rides the rhythm of The Supremes' You Can't Hurry Love.
The track came out of the blue, says Stefani, as Shelton has largely given up writing his own songs.
Skip Youtube post 2 by GwenStefaniVEVO Warning: Third party content may contain adverts Report
End of Youtube post 2 by GwenStefaniVEVO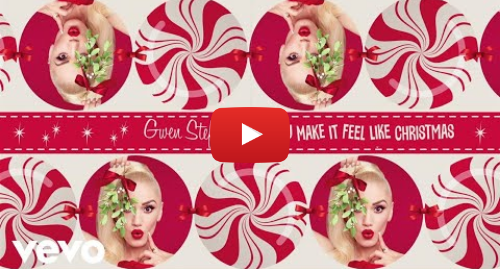 Image Copyright GwenStefaniVEVO GwenStefaniVEVO Report
"He went to Nashville just to be a writer but he doesn't enjoy it, I guess. He just likes singing," she explains.
"But he just happened to be sitting around on the [tour] bus and started writing that song, You Make It Feel Like Christmas.
"He sent me a voice text and I was like, 'I was just thinking about your record and I don't know if this is any good'.
"And I was like, 'Oh my gosh, this sounds like a hit!'"
"It's one thing to write a Christmas song that's mid-tempo or slow or emotional, but an uptempo, fun, joyful one? That's hard."#
Image copyright Reuters Image caption The singer says she wants to have an enduring Christmas hit
You Make It Feel Like Christmas is undoubtedly the highlight of the album – and Stefani's best shot at having a recurring Christmas hit.
"As a songwriter, that's the ultimate dream," she admits. "The idea of having a song that repeats every year.
"I mean, every year Mariah Carey is like, 'Here I am again! I'm back! Even if I don't have a record out this year, I'm back at Christmas!'
"That was the idea – I was going to get the basketball and try to score a basket.
"You never know with any music if it's going to connect. But this record, so far, has been kind of magical.
"It's probably going to be my favourite Christmas I've ever had – and it's been going on since April!"
You Make It Feel Like Christmas is out now.
Follow us on Facebook, on Twitter @BBCNewsEnts, or on Instagram at bbcnewsents. If you have a story suggestion email entertainment.news@bbc.co.uk.
Fossilised eggs shed light on reign of pterosaurs
A collection of 200 eggs gives new insights into the development of the extinct flying reptiles.
The largest clutch of pterosaurs eggs ever discovered suggests that the extinct flying reptiles may have gathered together in vast colonies to lay their eggs.
More than 200 eggs were discovered at one location in China.
Little is known about how the pterosaurs reproduced.
The find suggests that hatchlings were probably incapable of flight when they emerged from the egg, and needed some parental care.
Predator attack
Fossilised pterosaur eggs and embryos are extremely rare. Until now only a handful of eggs have been found, in Argentina and north-western China.
The large collection of eggs suggests pterosaurs may have nested in colonies, where they defended their offspring from predator attack.
Image copyright Zhao Chuang Image caption Reconstruction by Zhao Chuang
Pterosaur experts Xiaolin Wang of the Institute of Vertebrate Palaeontology and Paleoanthropology in Beijing and Alexander Kellner of the National Museum of Brazil in Rio de Janeiro discovered the fossils.
The 215-plus eggs could not have been laid by the same female, said Dr Kellner.
An almost complete skeleton of a hatchling shows that bones related to flight were less developed than bones of the hind limb, indicating that newborns might have been able to walk but not fly.
"That implies some parental help was needed for the hatchlings," he told BBC News.
'Crucial advance'
They will continue to search for new fossils, he added, to try to get a more detailed understanding of "the first vertebrates that conquered the air some 225 million years ago and that went extinct, without leaving any descendants some 66 million years ago".
Image copyright Alexander Kellner/Museum Nacional/UFRJ Image caption Pterosaur bones were found alongside the eggs Image copyright Alexander Kellner/Museum Nacional/UFRJ Image caption Paleontologists Kellner and Wang in the field
The eggs belong to a pterosaur species known as Hamipterus tianshanensis, which was first discovered in 2005 in the Turpan-Hami Basin of north-western China.
Geological evidence suggests large numbers of the flying reptiles died in a storm in the Early Cretaceous period, about 120 million years ago.
Commenting on the research, Charles Deeming of the University of Lincoln, said it raised many questions, such as how many eggs were laid at a time.
"The work is a crucial advance in understanding pterosaur reproduction," Dr Deeming said.
"Hopefully additional finds of equally spectacular fossils will help us answer such questions for pterosaurs and allow us to paint an increasingly complete picture of reproduction in these extinct species."
The research is published in the journal, Science.
Follow Helen on Twitter.
Celebrity Big Brother: All-female launch 'to mark 100 years of women's votes'
The CBB house will be man-free at first, marking the centenary of women getting the vote.
The next series of Celebrity Big Brother is to launch with just female housemates "in a salute to a centenary of women's suffrage".
The show will begin in January with only women in the house before male contestants join them.
Channel 5 said it wanted to mark the 100th anniversary of women over 30 being given the vote.
But a descendant of suffragettes Emmeline and Sylvia Pankhurst said they would have laughed at the idea.
Dr Helen Pankhurst, an equality campaigner who is Sylvia's granddaughter and Emmeline's great-granddaughter, welcomed the fact the programme would raise awareness.
However she said people needed to realise there are still big problems in the entertainment industry and wider society.
'Serious message'
"Anything that draws attention the centenary and allows a discussion and gets that message through to different audiences is a great thing," she told BBC News.
"I'll be really interested to hear what the audience have to say about it all and to hear the whole discussion it will promote."
Asked what her grandmother and great-grandmother would make of the plan, Dr Pankhurst said she thought they would laugh, adding: "I really don't know what they would make of the world we live in."
Image copyright Getty Images Image caption Sarah Harding won over British voters in the last series
Dr Pankhurst is publishing a book titled Deeds Not Words – named after the suffragettes' slogan – in February to mark the anniversary.
"The message has to remain that there is a really serious issue behind the power imbalance that still remains," she said.
"That is why we have a number of troubles, like the whole #MeToo issue, which is rife in the entertainment industry. So I think they would say, 'fine, but let's keep on with the messaging.'"
Channel 5 said the show "will initially explore how the all-female housemates interact".
The male contestants will enter "over the course of the series", but the broadcaster wouldn't say how long the house would remain a man-free zone.
Image copyright Getty Images Image caption This will be the 21st UK series of Celebrity Big Brother
They also wouldn't say how many contestants of each gender will eventually be inside, or whether it will end up with an equal split.
But their announcement said it would show "what happens when women hold the power".
"The housemates will take part in a series of entertaining tasks and hidden experiments which will test their – and our – assumptions, challenge gender stereotypes and reveal fascinating truths about what it is to be a woman – and man – in the 21st Century," it said.
Women over 30 gained the right to vote in parliamentary elections in the UK in 1918, following a long campaign by the suffragettes and after the contribution by women to the war effort during World War One was recognised.
The voting age for women was lowered to 21 in 1928, putting them on an equal footing with men.
Follow us on Facebook, on Twitter @BBCNewsEnts, or on Instagram at bbcnewsents. If you have a story suggestion email entertainment.news@bbc.co.uk.
Cineworld to buy Regal cinemas in blockbuster deal
The $3.6bn (£2.7bn) takeover will create the second largest cinema chain in the world.
Cineworld has agreed to buy US cinema chain Regal in a $3.6bn (£2.7bn) deal that will create the world's second largest cinema group.
The new cinema giant will operate in 10 countries, and have 9,500 screens across the US and Europe.
The deal gives Cineworld access to North America, which has the largest box office market in the world.
Cineworld currently has more than 2,000 screens across 221 sites and also owns the Picturehouse Cinemas chain.
Are we falling out of love with the cinema?
Who's in line for the Oscars?
The deal is a big bet on the cinema sector, which is under threat from streaming sites such as Netflix, Amazon Prime and iTunes which allow viewers to watch films at home.
In the US this summer's takings at the box office were at their lowest level for more than two decades.
But annual takings have been more than $11bn for the last two years.
And in the UK, cinema attendance is up around 8% so far this year with around 165 million tickets sold each year.
Image copyright Getty Images Image caption The 1946 film Notorious was released in an era of record cinema attendance
The numbers are still a far cry from UK cinema-going's peak after World War Two which saw a record 1.63 billion cinema admissions in 1946.
Cineworld chief executive Mooky Greidinger said he expected to bring Regal's profit margins to nearer Cineworld.
Currently Cineworld has a 22% margin, while Regal has just short of a 20% profit margin.
Its main rival is AMC , which is majority owned by China's Dalian Wanda Group.
This year, Cineworld's audiences have been boosted by blockbusters Dunkirk and Despicable Me 3, with recent big releases including Paddington 2 and Justice League.
Mr Greidinger said: "Regal is a great business and provides Cineworld with the optimal platform on which we can continue our growth strategy."
News of the deal saw shares in Cineworld drop 2.5% by midday.
Last week, the cinema chain's shares plunged 20% when it revealed it was in takeover talks with Regal.
Cineworld has agreed to pay $23 a share for Regal, and is funding the deal mainly by asking investors to stump up £1.7bn by buying new shares through a procedure known as a rights issue. Issuing new shares typically depresses the price of existing shares.
body{background-color:#ffffff}.news-vj-spw-wrapper{padding-top:1em;padding-bottom:1em;padding-right:1em}.news-vj-spw-frame{background-color:#fff;border:0px none transparent;padding:0px;overflow-x:hidden;-ms-overflow-x:hidden;overflow-y:hidden;-ms-overflow-y:hidden;min-height:10em}@media (max-width: 530px){.phantomjs .constraint{max-width:520px}}.phantomjs .news-vj-spw-wrapper{padding-top:0;padding-bottom:0}.phantomjs .news-vj-spw-frame{background-color:#fff;margin:auto}.phantomjs .sixteen-nine{position:relative;background-color:#fff}.phantomjs .sixteen-nine:before{display:block;content:" ";width:100%;padding-top:56.25%}.phantomjs .sixteen-nine>.news-vj-spw-wrapper{position:absolute;top:0;left:0;right:0;bottom:0}